Known officially as Las Vegas Boulevard, the Las Vegas Strip is the most recognizable street in Las Vegas. It is home to the most famous hotels and casinos in the city, which makes it one of the most photographed and visited avenues in the world.
The Strip is approximately 3 miles long and is bookended by the Stratosphere Tower in the North and the MGM Grand and the New York New York in the south.
Due to its continual expansion, the Strip is often understood to finish in the south at the Mandalay Bay, very close to the famous "Welcome to Las Vegas" sign.
What is on the Strip?
Besides being home to the best hotels, the strip also always has a special ambiance. For a large part of the day, the hotels offer shows: The Fountains of the Bellagio or the Cirque du Soleil are some good examples.
On the Strip, between the hotels and casinos, you will find one of the most popular commercial centers: Fashion Show Mall. On the lower floor, you will find clothes shops, and on the upper floor, restaurants and fast food chains.
The best time to tour the Strip and enjoy its ambiance is when Las Vegas comes alive at night. In fact, we organize a night tour with English speaking guide and you can reserve it by clicking here.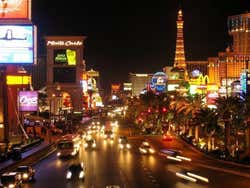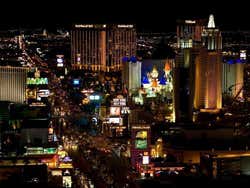 Schedule
24 hours a day, every day.