Although the lack of public transport can be noted in many US cities, in Las Vegas there are more than 50 bus routes around the city. Some of them operate 24 hours a day.
Of all the bus routes around Las Vega, the most useful for visitors to the city is The Deuce.
The Deuce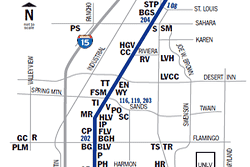 Ruta de The Deuce
The Deuce is the most famous and most commonly used bus service in Las Vegas. This double-decker bus tours the Strip from north to south, stopping at all the hotels and major landmarks. It is a good way to save money and not suffer under the sun's heat.
The Deuce operates 24 hours a day, with a frequency of between every 7 minutes during rush hour through to every 17 minutes between 2 am and 5 am.
The line starts in Las Vegas Outlet Center and finishes at Fremont Street.
Other lines
You can consult the other lines on the State of Nevada's official website:
Tariffs
Basic ticket: $6 for the Duece. $3 Other lines.
24-hour ticket: $8.
3-day ticket: $20.
Is the bus recommended
Apart from the Deuce, which is almost a tourist attraction in its own right, taking the bus in Las Vegas is a waste of precious of time and we recommend that you rent a car or use taxis.