Le Reve is one of the best shows ever created. Swimmers, divers, and almost 100 performers make up the Le Reve which in French means "The Dream".
A unique experience
From the entrance to the Wynn Hotel, you will step into a dream which lasts an hour and a half. Before the show has even started you will already know that you are going to experience something magical with the staging brimming with water and atmospheric lighting.
Although the show is based on a romantic backstory, and the fight of good against evil, the main attraction are the performers and the staging.
This is a circus show where the staging is the main stunt. Disappearing platforms, waterfalls, divers and artists that appear on the ceiling are just some of the elements of a show that makes us eager to return to Vegas, even if it's just to see it again.
Seating
The theatre is perfectly designed so that whatever seat you are allocated is a good one.
Contrary to other shows, the first rows are the cheapest. The last 2 rows are the "splash zone", which means that you may get wet sitting there. However normally this is no more than a few drops and, as these seats are cheaper, they are good for those wanting to save money.
Where to buy tickets
Given that it is the best-known show in Las Vegas, is recommended to buy the tickets in advance.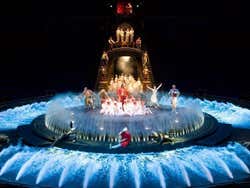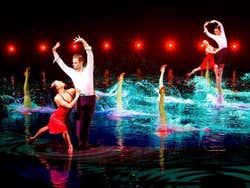 Schedule
From Friday to Tuesday from 7 pm to 9:30 pm.
Price
Starting from $105 plus taxes.