Freemont Street Experience
Fremont Street Experience is one of the most important shows in Las Vegas. It perfectly combines lights, sound, concerts, and other performances.
The Experience
Creating the Fremont Street Experience was a decision taken by various neighboring hotels and casinos in order to regenerate tourism in the historic downtown area of Las Vegas.
It first started as a light show on the 14 December 1995. Later, staging and a sound system were installed for concerts. Halfway through 2004, work began on the upgrade to what can be found on Freemont Street today - a shopping strip covered by a huge canopy which projects state of the art LED light and sound displays.
Currently, the Viva Vision video screen, situated in the barrel vault, has more than 12 million LED bulbs and 220 loudspeakers. Every night this screen presents beautiful light and sound shows which evoke the best of Las Vegas' history and culture. 
Recommended
Travelers that are going to in Las Vegas for a few days should not miss a trip to Fremont Street.
For more information and to see the performance times, please consult the official website: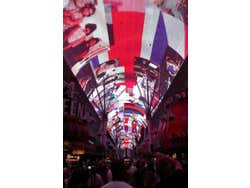 Schedule
From 8 in the evening to 12 at night.
Transport
Bus: The Deuce Bus (which follows the Strip) or taxi.