Las Vegas North Premium Outlets
Las Vegas North Premium Outlets is the most famous discount shopping center in Las Vegas. Permanent discounts are offered all year round.
In Premium Outlet, you will find 150 shops selling the best-known brands including Calvin Klein, Dolce & Gabbana, Kenneth Cole, Hugo Boss, DNKY, and Polo Ralph Lauren.
If you are looking for other types of clothing, you will find sports clothing, shoes, accessories, clothes for children, etc.
Restaurants
Although there are no restaurants as such, if you are hungry, the shopping center has a small area with fast food joints.
Worth the effort?
If you want to do some serious shopping, North Premium Outlets is a good option. Furthermore, it is an outdoor complex and the walk is quite pleasant. If on the other hand, you are going to grab yourself a bargain then you will probably be disappointed as the offers are not so amazing.
If you are staying towards the south of the Strip, then Las Vegas South Premium Outlets is better situated for you. This mall has essentially the same shops and discounts as North Premium Outlets.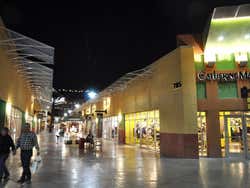 Schedule
Monday to Saturday from 9 am to 9 pm.
Sundays from 9 am to 8 pm.
Transport
Bus: line 108 from the Stratosphere hotel (to reach the hotel, take The Deuce bus).
Taxi: between $10 and $15 (recommended!),