You can see it, you can feel it, but you cannot believe it. That is the calling card of KA – one of the many shows of the Cirque Du Soleil in Las Vegas.
KA combines martial arts, acrobatics, dance, puppetry, projections, and music with a 360 rotating stage which moves in every direction. 80 professional artists from all over the world take part in the show.
To separate the different acts and to allow time for stage changes, KA also includes traditional circus performances and short comedy sketches. The animal disguises are something special to look out for in particular.
What is missing?
The stage elevates, moves up and down, revolves around, and is very impressive. All the cast are martial arts experts. So, is anything missing? Among all the stunts and scenery, KA also attempts to tell a story and that is perhaps its biggest mistake: the story is difficult to follow, and we end up not knowing who is who.
From an aesthetic point of view, there is nothing to complain about. Some scenes are so surreal it is almost as if you are dreaming.
Purchase tickets online
The best way to avoid queues and obtain good seats is to buy tickets in advance via our website: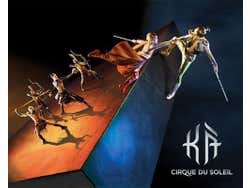 Schedule
From Tuesday to Saturday. at 7 pm to 9:30 pm.