Five floors covering an area of 7500 square meters, 100 million dollars worth of investment, and superstar DJs like Calvin Harris and Steve Aoki, make the Hakkasan night club one of the most famous in Las Vegas.
Size
Hakkasan is not just the largest nightclub in Las Vegas, but also of all the United States. It makes sense then that it is located in the MGM Grand, the largest hotel in America's premier city for nightlife.
Music
Besides its size, Hakkasan is also notable for the global names it attracts to its DJ booth. Steve Aoki, Hardwell, Calvin Harris, and Tiesto are some of the stars that frequently spin records here.
Only the DJs make it worth visiting
Although Hakkasan attracts a lot of hype, as with other venues with multiple floors and rooms, space is taken at the expense of the main dancefloor and so it can feel quite cramped.
We would only recommend attending Hakkasan if there is a big name DJ playing when you happen to be in town and you think it might be your only chance to see them live. Otherwise, we would recommend the much more elegant Drais and Xs over this venue.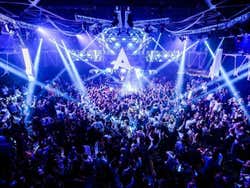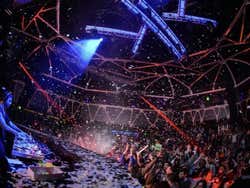 Schedule
From Thursday to Sunday from 10 pm to 4 am.
Price
The cost depends on the particular night, but starts at around $20.