Las Vegas Nightlife and Parties
Everyone knows that Las Vegas is bursting with exciting nightlife. Besides the famous casinos and shows, there are also many bars, pubs, and discos.
Dress code
The Las Vegas nightlife is legendary, but many venues have strict door policies to ensure a respectable atmosphere. Men must follow the basic dress code of shoes and shirt.
Women don't usually have a problem getting into the bars and clubs and can dress more or less in the way they want. Most Americans, however, dress up for the occasion and look smart.
Please bear in mind that in Las Vegas you must be 21 years old to drink and enter discos.
Where should I have the first drink?
In Las Vegas, there is an easy answer. If you want a "free" drink then you only need to play poker or roulette in the casinos. Just choose your table, take a seat, and wait for the waitress to come and take your order. When she brings it, don't forget to leave a tip of at least 1 dollar or one gambling token.
If you don't like to gamble, you can always go to any of the infinite bars and restaurants that there are in every casino.
Where to continue the night?
Each hotel has its own bars and discs. The following is a selection of the most important with information on where they are and how to get there:
Other recommended venues are: Vanity (Hard Rock Hotel), Rain (Palms) and Tryst (Wynn).
Two panoramic terraces that will take your breath away
Other venues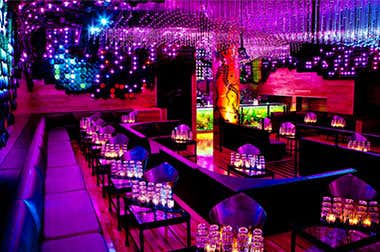 Just like the Mirage hotel where it is located, the 1 OAK disco is a favourite among Vegas' younger crowd.
Coyote Ugly is the perfect way to start your night in Las Vegas, its not very expensive and always has a great atmosphere.
And during the day?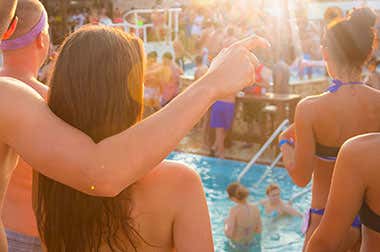 The pool parties in Vegas take place during the day on the terraces of various hotels around the city. They are the perfect cocktail of music, drink, and the beautiful people.
One of the relatively new fads in Las Vegas is the pool party. Find out all about these fun events.
Club prices and how to get in free
The cost of entry into a Las Vegas club varies between $20 and $40 for men, and $10 and $20 for women. To get into pubs and discos in Las Vegas free of charge, there are various options:
By both simply strolling along the Strip or searching on the Internet, you will find dozens of public relations officers for the clubs. They often have guest lists to entice you to the event. You will find a guest list website by clicking on this link.
Get a pass: The easiest way to get VIP access to a club is to pass by the corresponding hotel during the day. Often, there are PR stands in the foyer or the casino. If you find one, don´t hesitate in asking if they have any discount or guest list because they usually do.
Buy the passes: Just walking along the Strip, you shouldn't have any problems finding (or should that be the other way round) some hustler looking to offload passes gathered from various sources, in exchange for a small tip.
If you are staying in the same hotel as the disco you plan to go to, the best idea is to go to the Concierge's desk and ask if they can put you on the guest list. Normally this is no problem.
We must stress that, for most of the venues, the VIP passes and the guest lists are only valid up until midnight.
Groups of girls, or comprising girls in part, are far more likely to secure free entrance than groups of only men.