The Hoover Dam is one of America's most significant works of engineering from the 20th Century. Measuring 380 meters long and 220 meters high and 200 meters wide at its base, it is one of the largest dams into the world and formed Lake Mead.
Construction on the Hoover Dam started in 1931 and was completed in 1936, 2 years ahead of schedule and at a lower cost than predicted. Innovative drilling technology, never previously seen in America, was used to build the tunnels inside the dam.
Currently. the Hoover Dam provides electricity to the states of Nevada, Arizona, and the south of California. It receives more than 1 million visitors every year.
Visiting the Hoover Dam
Although there are a wide range of different tours to the Hoover Dam, the most interesting is undoubtedly the "Power Plant Tour". During this 30-minute guided visit, you will see various important sites inside the dam, including the gigantic turbines.
On the tour and later, at the visitors center, you will encounter different vantage points which offer majestic views of the Dam, Lake Mead, and the Colorado River.
How to get to the Hoover Dam
If you do not have access to a vehicle, the best option is to take an organized tour. Prices are around $60.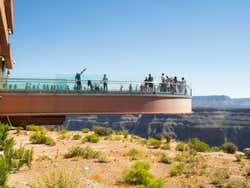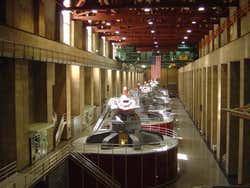 Schedule
Every day from 9 am to 9 pm.
Price
Adults: US$ 10.
Adults over 62 years old and Children under 16 years old: US$ 12.
Children under 3 years old: free entry.